Professional Organization of Women of Excellence Recognized
Fall Issue 2023 Page 58
*********
Thats Criminal Podcast
With John Stamp
December 6, 2022
*********

Case of the Month
Defrosting Cold Cases
Research Website by Alice De Sturler
On November 28, 1981 Joan Lucinda Webster, a Harvard graduate student, went missing. Joan (25) was last seen at Boston Logan International Airport, Massachusetts as she returned to Harvard from her Thanksgiving break.
Her skull was found on April 18, 1990. The rest of her remains were found on April 25of the same year.
Joan was wrapped in a black plastic garbage bag and was buried in a shallow grave. That grave was in a heavily wooded area, prone to flooding. Her grave was covered with two very distinct layers of wooden logs that were stacked there on two separate occasions.
Joan was buried nude aside from a gold necklace and a gold ring. However, all her unique jewelry was missing. Her clothes, shoes, coat, etc. were never found. Two things were found, her purse and suitcase. The significance of that is explained in the book.
Nobody has ever been arrested let alone tried in court for Joan's murder. All we have is a theory based on quicksand. Officially, Joan Webster's case remains unsolved. Therefore, this post is both Case of the Month for December and a book review. We owe it to Joan.
There is only one reason why a dead person would be robbed of only part of her jewelry: identification. The items found with Joan's remains were generic enough but the items that set her apart, were never found.
When I read Carson's book, the first notes that I made were:
1: Where did George Webster, Joan's father, go the night that Joan left from Newark Airport
2: Who knew exactly when Joan would arrive at Logan Airport
3: Who cancelled Joan's friend's visit over the Thanksgiving break and
4: Who was that friend (not accusing, merely brainstorming)
On page 7, we read that George Webster deviated from his normal routine. On Nov 28, 1981, he did not drive to the airport alone to drop off Joan. Wife Eleanor and daughter Anne came along as well to see Joan off. Carson explained that Eleanor did not drive after dark, and Anne had a long drive ahead the next day. So why did they tag along? Simple. Anne had to drive Eleanor back home because neither George nor Joan would be there after dropping off Joan at Newark. And from there, the unravelling becomes increasingly unsettling.
Eve Carson is Joan's sister-in-law. She has written a meticulous account of Joan's case in this book. To show to the reader who is involved, Carson did not just have to write about the Webster Family. She had to present the reader to the players in the 1979 murder of Marie Iannuzzi. I understand that she had to introduce the Iannuzzi case but it complicates the book.
Even though there are copies of reports and photography in the book, the set-up is not so clear to the reader who is new to both cases. At the end of the book is a list of key players, a timeline, author's notes, and information where the reader can find more documents online. However, there is no index which would have benefitted this book.
The tone of the book is conversational and at times you feel Carson's justified frustration and pain. About three-quarters in, a few of the last chapters start with clear, objectively written short summaries before continuing. I wish that there had been more of such moments.
Despite that, I would like to encourage you to read this book or at least look up the case online. Joan's murder was not a random act of violence but a carefully plotted murder for which nobody has been held accountable. The meaning of the book's title is explained near the end.
From the moment that you read that this careful student, raised by two CIA agents, calmly and willingly went along with an unknown bearded man upon arrival at Logan Airport, changed taxis without showing any sign of distress or confusion, you know that she went with someone she knew and trusted despite the disguise.
The motive for Joan's murder remains an educated guess. Of course, she knew something or maybe she herself was the victim of a covered-up crime. The author hints at that at the end.
Highly recommended reading.
Note: I received a copy of this book from the author in exchange for an honest review. My other book reviews are here.
**
In the series "Case of the Month" I highlight old cold cases. These posts are not an in-depth analysis and of course, more information can be found online and in newspaper archives.
We need to get these cases back in the mainstream media, to get people talking again, and if anything, to make sure that we do not forget the victims. Just because their cases are unsolved does not mean that we can forget about them.
With the advances we made in modern forensic sciences, we may have a chance to find clues that previous remained hidden because we did not have the technology. Now that we do, let us review all these old cases once more.
I encourage you to share this post on your own social media platforms. By sharing these posts, the cases reach new networks, new connections, and new online news feeds. One day these updates may pop up in the right person's news feed. This may be someone who can help advance the case and that is my goal.
Rest in peace, Joan Lucinda Webster.
*********
Marilyn Meredith
Public Safety Writers Association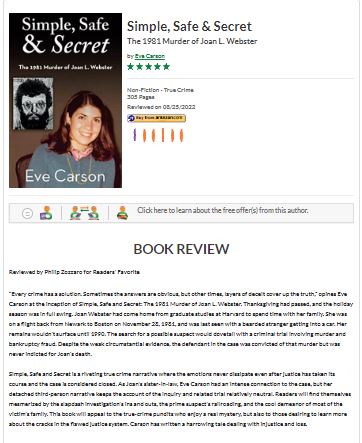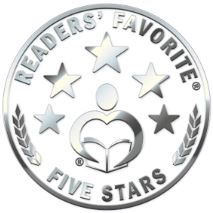 Reader's Favorite 5 Star Review
*********
Interview with Mike Morford
The Murder in My Family Podcast
August 13, 2022
*********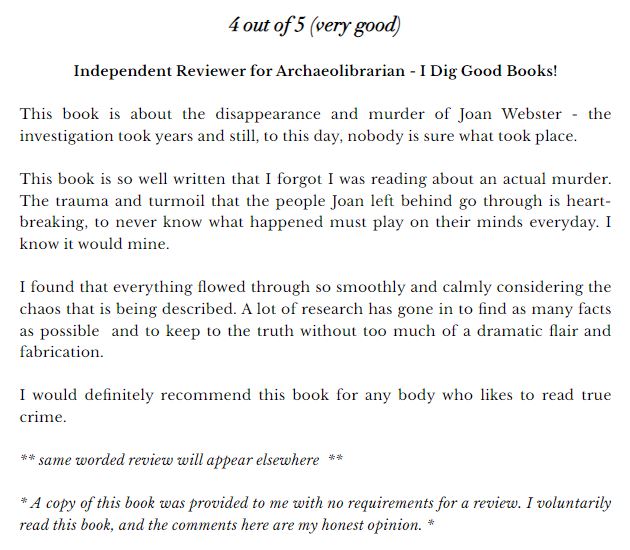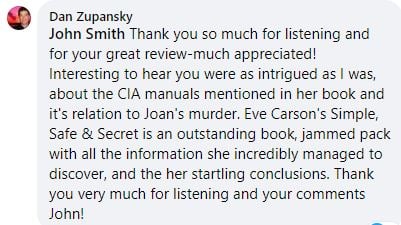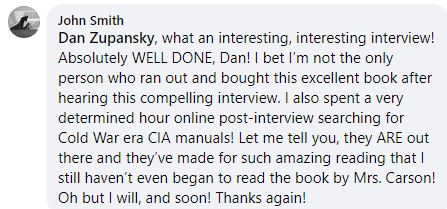 Interview with Dan Zupansky
True Murder Podcast
July 14, 2022
*********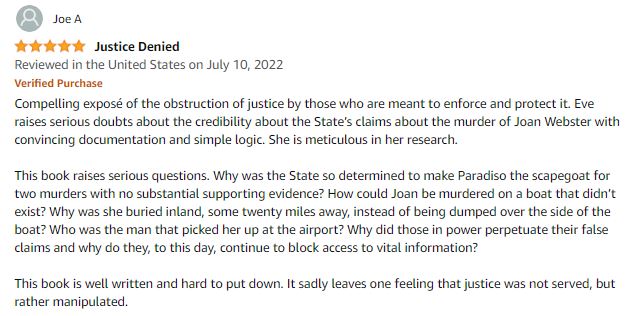 True Crime Twins Podcast
June 13, 2022
*********
Eveknowsthetruth YouTube Channel
*********
Eveknowsthrtruth YouTube Channel
*********
Eveknowsthetruth YouTube Channel
Testimony of Robert Bond Parole Hearing
*********